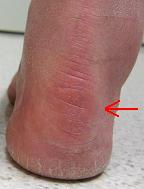 Haglund's deformity is an enlargement of the back of the heel bone and one of the most common causes of heel pain that we treat in our Seattle foot clinic. Pain occurs at the back of the heel where the Achilles tendon attaches into the heel bone. It is a particular problem for women as pressure from women's dress shoes often irritates the enlarged heel bone. This is why Haglund deformity is often called a "pump bump".
Treatment for this problem is focused on decreasing pressure on the back of the heel. We try to do this non-surgically if at all possible. Treatment may include:
Custom Foot Orthotics,
Oral anti-inflammatory drugs
Icing
Strengthening exercises for the Achilles tendon
Stretching exercises may help reduce Achilles tendon tension.
Heel lifts
Modifications to shoes
New shoes
In some cases, temporary immobilization in a walking boot or cast can allow the tissue to heal.
More detail on
treatment options for Haglund's deformity
can be found here.
Home remedies for Haglunds deformity
can be found here.
If you have painful Haglund's deformity,
make an appointment to see us in our Seattle clinic
.